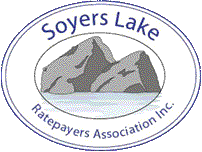 Current Soyers Lake News
Corn Roast - Water Race Results

(Added Sept 11, 2017)

Soyers Lake Fall 2017 Newsletter

(Added Sept 11, 2017)

Lake Steward 2017 Spring Report

(Added May 8, 2017)

Pay Your Dues by e-Transfer

(Added April 16, 2017)

Soyers Lake Maps

(Added June 8, 2016)

2015 Soyers Lake Annual General Meeting

(Added July 15, 2015)

Minden Hills Passes New Noise By-Law

(Added October 21, 2013)

Septic System Video

(Added July 7, 2013)

Shoreline Tree Preservation By-Law

(Added November 14, 2012)

Low Impact Lake Recreation

(Added March 23, 2012)

The Importance of Calcium in our Lakes

(Added March 23, 2012)

Informational Cottage Posters

(Added June 16, 2011)

New SWAP SHOP area on this Website

(Added November 3, 2010)

New Members Only Features on this Website

(Added August 9, 2010)



Area News
---
Soyers Lake Activities - 2017
Annual General Meeting - Saturday July 8, 2017
The 2017 Annual General Meeting was held at the Haliburton Highlands Outdoors Association Fish Hatchery on Saturday July 8, 2017.
Soyers Lake Bass Fishing Derby
The annual Bass Fishing Derby was again held for children under 16 years of age. The winners this year were:
1st place Wyatt Small 18.25 inches
2nd place John Coccimiglio 15 inches
3rd place Alex Wisniewski 13.5 inches

Fun Sail
The 2017 Soyers Lake Fun Sail was held on August 5.

Corn Roast - Saturday August 19



---
Soyers Lake 2018 Activities - Mark Your Calendar
Annual General Meeting - Saturday July 7, 2018
Fun Sail - Saturday August 4, 2018 (Rain date Sunday August 5, 2018)
More Than Just A Corn Roast - Saturday August 18, 2018
---
// *** BANNER ADs ***