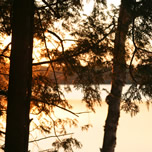 News
---
Soyers Lake 2017 Corn Roast - Water Race Results
Greg Freeman and Jeff Papiez
Despite the rainy weather on Saturday, August 19th, there was enthusiastic support for the water races. This year we added a paddleboat race, in hopes that there would be intergenerational pairings. We were fortunate to have 5 paddleboats available for the races – four of them borrowed (many thanks to John Skelton, Diane Hutton, Brad Long, and Larry Grigg). In addition, we had 4 kayaks, two of which were borrowed (thanks to Christine and Peter Kerr). There was a lot of laughter and cheering from the sidelines. The sandy beach and the protected shoreline was a perfect location for the water sports.

The following are the pictures and the results from the races.

PADDLEBOAT RACE RESULTS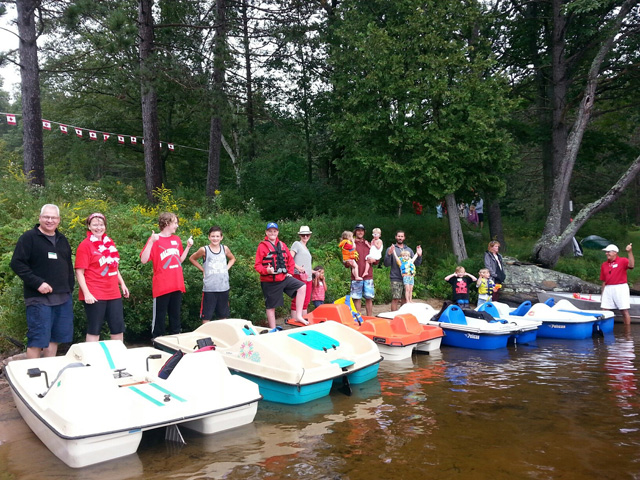 Eric Kunz and Tom Hutton
Liam and Natasha Balch
Kai Grigg and Will Walker
Ella, Sam, Blythe, Bryan Grigg and Aaron Walker
Sharon Kunz and Albert Hutton


KAYAK RACE RESULTS
Heat One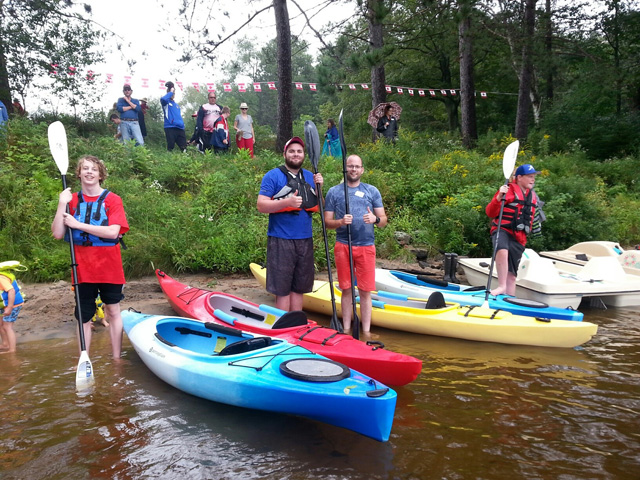 Ryan
Sam
Liam Balch
Eric Kunz

Heat Two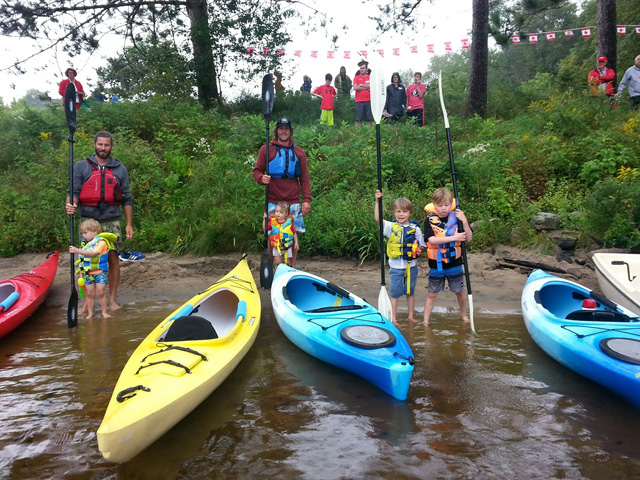 Bryan Grigg
Will Walker
Aaron Walker
Kai Grigg

Heat Three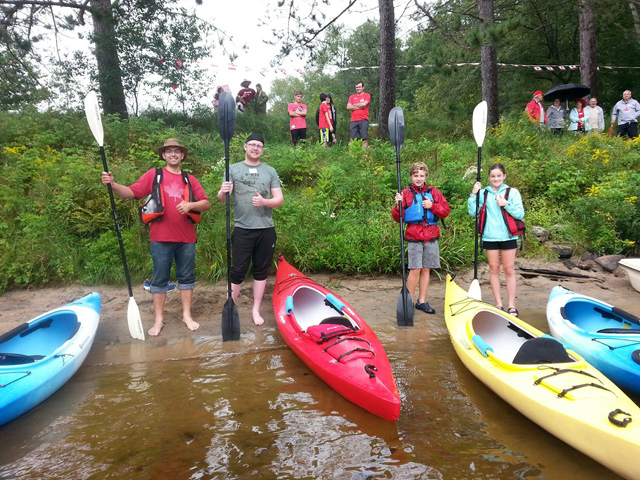 Adam
Sam Rutherford
Claire Rutherford
Mark

(Added Sept 11, 2017) Top
---
Soyers Lake Fall 2017 Newsletter
The Fall 2017 Newsletter as well as past newsletters are available in the MEMBERS ONLY / NEWSLETTERS area. CLICK HERE to go to the MEMBERS ONLY / NEWSLETTERS area (make sure you have your login information handy).
(Added Sept 11, 2017) Top
---
The President's Note in the Spring 2017 Newsletter mentioned the Lake Steward Report shown here:
Lake Steward 2017 Spring Report
The following is a follow up and summary of the lake sampling completed for the summer of 2016.

1. The Secchi (water clarity). The average clarity was 4.1 meters of the four samplings is a visual measure of phosphorus. Very little change from previous year readings. Soyers Lake is considered tea coloured because of the watershed. The natural colour limits the Secchi reading not the phosphorus as confirmed in the past seven years of lake samples. The results for the total Phosphorus of the past seven years sampling averages total phosphorus concentrations of 6.6 up/l. Less than 10 up/l the lake is considered oligotrophic. Lakes with these readings rarely experience algal blooms. The Phosphorus results are provided by the Provincial Lake Partner Program.

2. The results are in on the Invasive Species 2016 and the written report should arrive in time for the AGM. The results came back negative for zebra mussels, but spiny waterflea were found. This is not new the flea was reported as far back as 1997. The researchers believe waterfleas result in an average 30 to 40 per cent decline in native populations of zooplankton ( food supply for small fish and young sport fish ). What we can do will be advised in the written report.

3. The Dissolved Oxygen data collected in September 2016 results are similar to the results of September 2014. Dissolved Oxygen (mg/L) was 8 or greater at most depths which provides ideal conditions for Trout.

The lake water sampling for 2017 will include Secchi testing and follow up on the Invasive Specie forthcoming report. The membership with CHA and actively participating in the Lake Partner Program has been helpful and informative in providing the above info. Additional information can be obtained if you visit www.desc.ca/programs/lpp and scroll down to the heading "understanding your data" you will find the Lake Partner data interpretation guide.

(Added May 8, 2017) Top
---
Pay Your Dues by e-Transfer
You can now pay your membership dues using Interac e-Transfer. If you already bank online, e-Transfer is an easy and quick way to make your payment.

You can find out more information in the MEMBERS ONLY area. CLICK HERE to go to the MEMBERS ONLY area (make sure you have your login information handy).
(Added April 16, 2017) Top
---
Soyers Lake Maps
Maps of Soyers Lake which show the marker buoys are now available on MAPS page. There is a Google Maps version and a printable (PDF) version.
(Added June 8, 2016) Top
---
2015 Annual General Meeting Presentation
The 2015 Annual General Meeting was held at the Haliburton Highlands Outdoors Association Fish Hatchery on Saturday July 11, 2015. Debbie Balika gave a presentation on Water Quality in Soyers Lake and you can view her presentation by CLICKING HERE (Requires a Powerpoint viewer)
(Added July 15, 2015) Top
---
Minden Hills Passes New Noise By-Law (from township notice)
On September 26, 2013, Council voted in favour of a new noise by-law that should result in a reduction of unnecessary noise and will limit the use of personal fireworks.

The new by-law prohibits unnecessary noise 24/7 whereas the old by-law only prohibited unnecessary noise from 11 pm through 6 am. An exception is made in the new bylaw for construction work between the hours of 7 am and 7 pm.

Personal fireworks are now prohibited in Minden Hills except during the following times:
- New Year's Eve (dusk through 1 am)
- Victoria Day weekend (dusk through 11 pm)
- Canada Day and the weekends immediately before and after (dusk through 11 pm)
- Labour Day weekend (dusk through 11 pm)

Enforcement will require the complainant to contact the municipal office and complete a complaint form providing detailed information about the nature of the noise or fireworks infraction, the location, date(s), time of day and the name of the perpetrator. The complainant will have to agree to appear in court on behalf of the Township in the event a complaint is referred to the courts.

Municipal staff will not be doing on-site complaint investigations, they will rely on the complaint form and a detailed conversation with the complainant in order to determine whether a complaint has sufficient merit to be sent to a prosecutor.

Council hopes to create a more peaceful environment for the enjoyment of all residents.

To make an enquiry or report a complaint, please contact:
Paula Stamp
Permit Clerk/Municipal Law Enforcement Officer
Township of Minden Hills
Box 359, #7 Milne Street
Minden, Ontario KOM 2KO

Phone: 705-286-1260 Ext. 211
Fax: 705-286-6005
Email: pstamp@mindenhills.ca

(Added October 21, 2013) Top
---
Septic System Video
At the SLRA Annual General Meeting on July 6, 2013 an informative video about septic systems was shown by Paul MacInnes of the CHA (Coalition of Haliburton Property Owners' Associations).

You can view the video by CLICKING HERE or by visiting the CHA web site.
(Added July 7, 2013) Top
---
Shoreline Tree Preservation By-Law (by Dave Gordon)
In late August, the County of Haliburton enacted by-law 3505, a by-law to conserve, prohibit, restrict, and regulate the protection, preservation and removal of trees on shoreline properties in the County of Haliburton.

Some of the goals of the by-law are to prevent "clear cutting" of shoreline properties, maintain water quality, enhance aesthetic values of land, and protect fishing habitat.

The by-law applies to all lands in the County within 30 metres of the high water mark of all navigable waterways. The by-law provides a number of exemptions for specific situations:

The following are exemptions to By-law No. 3505:
work on any tree(s) with a trunk diameter of less than 10 cm, as measured at 1.37 metres from ground level
hazard tree removal
removal of dead, dangerous, diseased or severely injured trees or stumps
emergency work removal
pruning or removal of trees in accordance with professional practices
removal authorized or permitted under a municipal building permit
removal of any tree within 5 metres of a dwelling or septic system
removal of trees for a driveway provided it is no more than 5 metres in width
removal of trees for a pathway to the water provided it is no more than 5 metres in width
The by-law restricts a number of the exemptions based on whether you own the shoreline road allowance in front of your property. Also, the exemptions are limited if the slope within that 30 metres from the high water mark is over 25% or in an area adjacent to fish habitat. The by-law specifies the use of qualified arborists and qualified tree markers to approve a plan when you are cutting trees within the 30 metres to ensure that you are in compliance with the by-law and good arboricultural practices.
You can apply for relief from the by-law by writing to the Director of Planning for the County.
The by-law will be enforced by the County and will be based on written complaints that it receives. The penalties for contravention of the by-law include penalties up to a maximum of $100,000.00 and the right for the County to stop the destruction of the tree(s) and/or issue a work order to rehabilitate the land at the property owner's expense.
A copy of the actual by-law along with commonly asked questions are available on the Haliburton County website by
CLICKING HERE
or by visiting
http://www.haliburtoncounty.ca/main.asp?function=municipal&subfunction=municipal&section=Planning&subsection=ShorelineTreePreservation
on the web.
(Added November 14, 2012)
Top
---
Low Impact Lake Recreation (by Kim Stamp)
(adapted from the Lakeland Living Book)

We all love the tremendous boating opportunities on Soyers Lake. Did you know that the ecological impacts of our recreational activities on the water include wake effects, wildlife disturbance, noise, and pollution? Many animals respond to human disruptions by altering their behaviour and location. Breeding water birds nest at the water's edge where high wakes can drown nests and destroy eggs. Disturbances such as noise and frequent visits to nesting areas may mean that waterfowl abandon their nests or young chicks.

Here are a few tips we can all follow to help reduce the impact of our actions while we enjoy the benefits of The Lake We Love!
Operate your boat below 10km/h whenever you are within 30 metres of the shore - it is the law!
Always avoid waterfowl nests and other sensitive wildlife habitat.
Always follow safe refueling guidelines to avoid polluting the water.
Consider using non-lead fishing tackle.
Obey posted speed limits and "No Wake" zones and know your boat's wake-free speed.
Remember that operating your boat on plane creates a smaller wake than when "plowing" through the water at lower speeds.
Remember that large wakes can contribute to shoreline erosion, plugged water lines, flooded loon nests and damage to neighbouring docks and moored boats. Please Respect the Lake you Love by keeping your wake to a minimum until you reach the large open parts of our lake.
Remember also that being a good Lake Steward in these ways not only protects the environment of Soyers Lake, it also protects the value of your property!
(Added March 23, 2012)
Top
---
The Importance of Calcium in our Lakes (by Larry Grigg and Dave Gordon)
There have been a lot of studies and chatter of late on the decline of calcium levels in Haliburton and Muskoka area lakes. The importance of calcium levels is that it supports tiny organisms called water fleas. These tiny organisms are a important part of the food chain and feed on algae. The water fleas (Daphnia) provide food for fish and other invertebrates.

The decline of Daphnia may impact fish populations and there may be other aquatic organisms that are sensitive to calcium declines, such as crayfish.

The two primary causes of the decline in calcium are thought to be acid rain and logging. In the past two decades progress has been made to reduce acid rain. Calcium has been and continues to be leached from the watershed soils into lake faster than it can be replenished through weathering or deposition from the atmosphere (e.g. dust). The re-growth of trees following logging can further diminish the supply of calcium available. Recent experiments in forty-nine lakes in south central Ontario, show approximately ten per cent have low calcium levels. Many of the lakes on the Canadian Shield in Ontario are nearing or passed the low calcium threshold. The scientists at Dorset Environmental Science Centre think maybe climate change is also a possible contributor. The reduction in runoff results from changes in climate and precipitation.

What can we do as property owners to help calcium depletion in our lake?
Distributing a dusting of excess wood ash in nearby woodlands.
Supporting or getting involved with efforts to influence government on tree cutting by-law and to consider soil nutrients levels, especially calcium, when developing forest management plans and logging quotas.
The reducing use of energy and fossil fuels including the use of electricity generated by coal and oil fired power plants thereby reducing acid rain-causing emissions.
The SLRA is currently participating in the Lake Partner Program in Dorset who are starting to monitor Calcium levels in the lakes.
Help the lake, do not cut down trees and recycle the fire ash.
(Added March 23, 2012)
Top
---
Informational Cottage Posters
The CHA (Coalition of Halibutron Property Owners Associations), U-Links and Trent University have developed the following informational posters for use in homes/cottages where renters, owners or visitors may not understand septic systems etc.. These posters are designed to printed on 8 1/2 X 11 paper, laminated and then hung prominently in the appropriate area.
The posters are for the: Bathroom, Laundry, Kitchen and Garbage

You can also access these posters in the OTHER RESOURCES area of this website.
(Added June 16, 2011) Top
---
New Swap Shop area on the Soyers Lake Website
The Soyers Lake website now has its very own "swap shop". Do you have things you would like to sell or just get out of your house? Now you can go to our Soyers Lake web site and list all those unwanted items you have been trying to get rid of. It is easy to use and you can even post pictures.

Just go to the MEMBERS ONLY section and check out the Swap Shop (make sure you have your login information handy).

Some of our members felt it would be a great feature especially for cottage items, water toys and used furniture. People would not have far to travel to see and purchase items. The other good thing is that some hard to reach places could have items brought in by boat.

So if you are looking to free up some space or sell some things you no longer need, check out this new feature on our website and remember, "One person's junk is another person's treasure". As well it is a great way to reduce, reuse and recycle.
(Added November 3, 2010) Top
---
New Members Only Features on the Soyers Lake Website
Now you can update your address information, check you membership dues payment history and more. All you need to do is LOGIN to the MEMBERS ONLY area using your email address and your individual password. The old Username and Password still work but will provide fewer features.

If you don't know your individual password you can have it sent to the email address we have on file.

If we don't have an email address for you, please contact info@soyerslake.ca.
(Added August 9, 2010) Top